We Are Ready to Welcome You Back Safely!
On May18th, Governor Inslee issued proclamation 20-24.1 Reducing Restrictions on, and Safe Expansion of, Non-Urgent Medical and Dental Procedures. With proper precautions in place to protect our patients and our team members, we are pleased to be able to resume caring for you and your smile.
From the start of the pandemic, Dr. Ashmore has been following the scientific research about Covid-19. We have always adhered to or exceeded U.S. Centers for Disease Control and American Dental Association recommendations for infection control, as well as the protocols set forth by the Occupational Health and Safety Administration. Dr. Ashmore continues to stay up to date with new rulings and guidance from the above organizations to ensure that our infection control procedures are current and adhere to each agencies' recommendations.
Our Office's Safety Precautions
To help prevent the transmission of all respiratory infections, including COVID-19, we adhere to standardized infection control measures, such as performing hand hygiene, providing tissues and no-touch receptacles to throw away used tissues. To enhance your safety in the era of Covid-19, we have implemented additional engineering measures, air purification units, daily health screenings of all team members and high filtration respirator use. We have also made some changes to our procedures. Some of these changes may only be needed temporarily, whereas others may be permanent.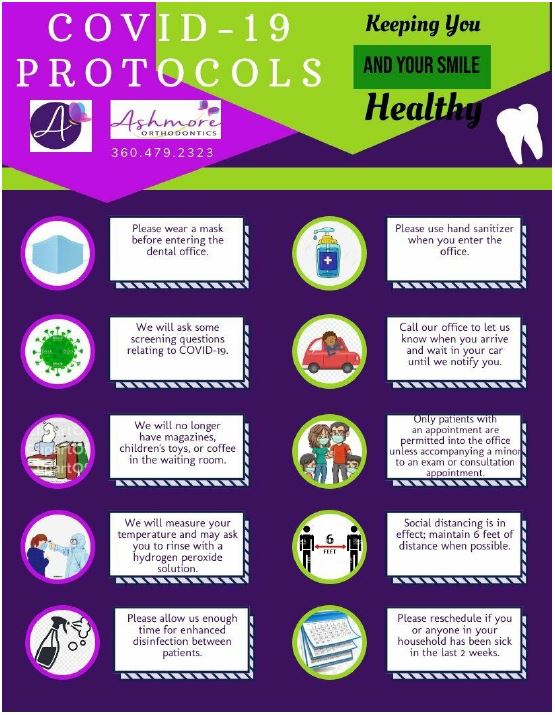 How can you prevent contracting or spreading COVID-19?
Wash your hands frequently with soap and water for 20 seconds. If you don't have access to soap and water, use alcohol-based hand sanitizer.
Maintain at least six feet of distance between yourself and anyone who is coughing or sneezing.
Avoid touching your eyes, nose, and mouth.
Wear a mask in public spaces.
Cover your mouth and nose when you cough or sneeze. Do not use your hands.
Stay home if you feel unwell. If you have a fever, cough, or difficulty breathing, seek medical attention and call in advance. Calling in advance will allow your healthcare provider to quickly direct you to the right health facility.
If you would like more information about our office's dedication to your health and safety, please give us a call. For more information about what you can do to prevent the spread of COVID-19, please visit the World Health Organization website.